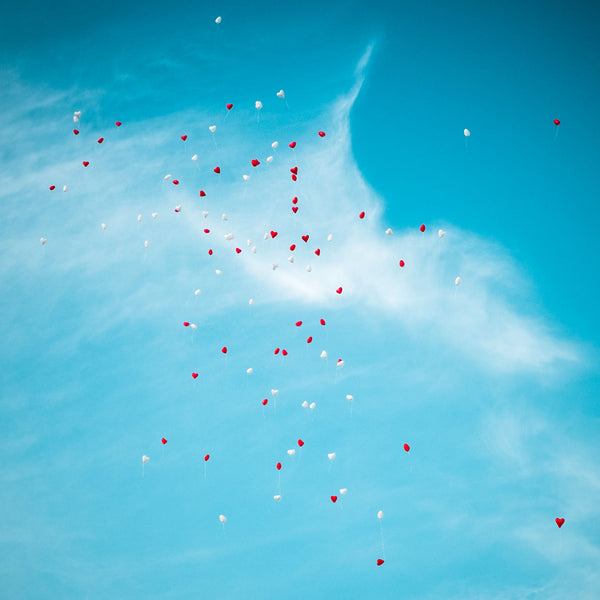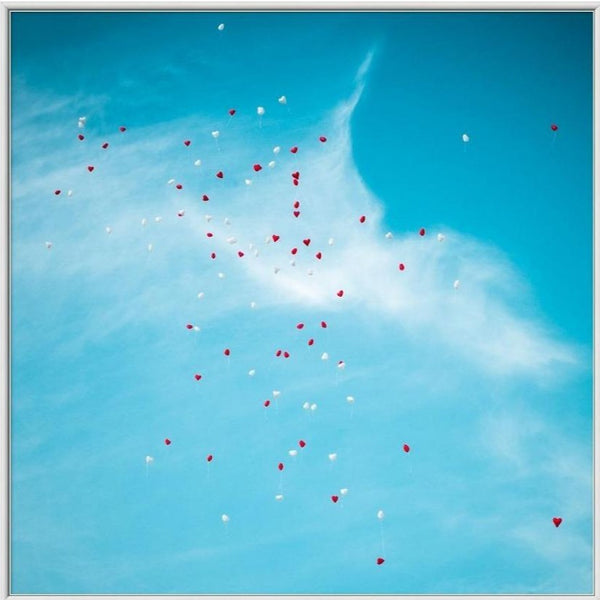 Love is a balloon in your hands. Some hold on to it for a lifetime, others leave it to the sky only after minutes.
This photo was taken when a wedding party released hundreds of heart balloons into the sky. An unbelievable beautiful sight, which made me follow the dancing balloons with my camera for a long time.
Ein perfektes romantisches Geschenk für Verliebte.
Information about the Designs
Acrylic Glass
Depending on the design, my acrylic glass pictures are provided with 2 mm thick, highly transparent acrylic glass, which gives the viewer a fascinating depth effect and particularly high color brilliancecares. The crystal-clear acrylic glass also protects the art print from external influences such as dust, dirt or UV radiation. It is very important to me that the prints have the maximum density and that every color nuance is displayed perfectly. Thanks to professional processing, the latest technology and the best materials, my acrylic glass pictures remain a permanent eye-catcher. A design with thicker acrylic glass (4mm or also 10mm) is available as a special order for an additional charge.
Acrylic glass Alu-Dibond Fineart
This is one of the modern forms of image presentation. I usually offer my photos on Alu-Dibond laminated behind 2 mm thick, highly transparent acrylic glass. In this process, the photo is printed on a premium photo paper and then placed between a three-layer aluminum composite plate and a crystal clearlaminated with polished acrylic glass. Images produced in this technique are characterized by the brilliant luminosity of the colors and the great depth effect of the motives. The same quality and just as elegant and expressive as you can see in my photo gallery in Berlin.
Polished acrylic glass (standard version)
The most popular version of acrylic glass Alu-Dibond pictures is a lamination behind glossy acrylic glass, since the brilliance and sharpness of the image is at its highest here.
Matt "anti-reflective" acrylic glass
Optional is an execution as
Acrylic glass Alu-Dibond image

possible with a matt surface. It is recommended for rooms with a strong incidence of light, as reflections are minimized here. Even with a matt surface, high-quality acrylic glass emphasizes the depth effect, colors and contrasts.

 

Due to the high quality workmanship and quality of my acrylic glass aluminum Dibond murals you will receive your works already with the optimum wall bracket pre-assembled. This ensures that your art photo is on easiest and most uncomplicated way can be mounted. Depending on the format, your pictures will either have metal brackets or an aluminum profile rail system.

Further information on the suspensions can also be found in the FAQs underWie kann ich mein Werk aufhängen?

 

 
Fine art acrylic glass with real wood gallery box framing
A real wood gallery box is a particularly sophisticated way of giving space to the work and harmonises with almost any ambience. In this version, the photo is laminated directly behind 2 mm thick acrylic glass and framed with a solid wood frame with a height of 3.5 cm. The gallery box frames your photo in a classic way when viewed from the front. Viewed from the side, however, the 3.5 cm thick wooden frame gives your motif a three-dimensional, object-like effect and underlines the work in a subtle way. Each box is individually made to measure.
The frames are custom-made from real wood and are available in the colors white, black, brown and natural.
the framed pictures offer the possibility of suspension on the frame. Here, too, two nails or screws (depending on the size of the picture) are sufficient to hang the work of art directly on the wall.  
floating frame
Noble, simple and refined: gallery frames with shadow gaps are used in the most famous museums and galleries in the world. With this premium frame, the acrylic glass aluminum Dibond picture is laminated with a 4-7 mm wide joint in the individually manufactured wooden or aluminum frame. As a result, the work seems to float in the frame.
Available in natural oak, white and black.
Alu-Dibond Finart Print
The Alu Dibond Fine Art Print is a real photo exposure, laminated on a 3 mm thick aluminum composite panel. In order to protect the surface of the fine art print from scratches, dirt, UV light and moisture, it is also finished with a wafer-thin UV laminate. this is a cheap alternative for classic Alu Dibond lamination under acrylic glass. However, if the picture is to be hung in the bathroom with high humidity, lamination is not recommended.
More formats
Interested in a size or framing option not available online?
Many motifs can also be produced in customized formats from 20 to 350 cm.*
Please let me know the motif title and your desired format by email and I will make you a non-binding offer.
I would be happy to assist you with advice.
 *Limited editions are excluded
Shipping
Delivery costs per order within Germany
longest edge of the image up to 90 cm | 9,90€
longest edge of image 91- 125 cm | 14,90€
longest edge of the picture 126 - 200 cm | 34,-€
longest edge of the picture from 201 cm | 49,-€
The delivery takes place within approx. 10 working days
Free collection from the gallery in Berlin-Mitte possible

Austria, France, Belgium, Luxembourg, Netherlands
longest edge of the image up to 60 cm | 9,90€
longest edge of image 61- 125 cm | 16,90€
longest edge of the picture 126 - 200 cm | 38,-€
longest edge of the image from 201 cm | 59,-€

On-site assembly at a fixed price
Within Berlin I offer a professional installation service at a fixed price. I will arrange an appointment with you and coordinate everything necessary for perfect wall mounting, which a specialized craftsman will carry out at your site. Please contact me directly if you would like to use this service.
Worldwide Shipping
International shipping costs are calculated during the ordering process. If your country cannot be selected, please write to me for an individual offer.